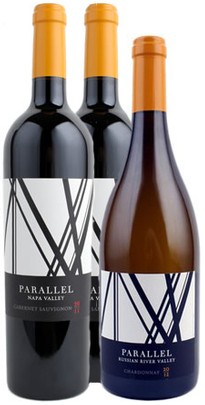 Includes shipping on this three bottle pack.
2013 Parallel Napa Valley Cabernet Sauvignon
"A savory character of smoked meat on the nose balanced with notes of Black Mission figs, cinnamon and thyme. Great acidity on the palate with flavors of wild cherry, cracked pepper, crushed dried herbs and black licorice. Sure to pair well with food."
2014 Parallel Russian River Chardonnay
"A wine that has both charm and finesse. A nose of dry straw, Crème brûlée and Meyer lemon zest. On the palate, lemon meringue, stone fruit, lemon oil and grapefruit. This chardonnay has medium body as well as fresh acidity. Great potential for aging."
-Philippe Melka, Winemaker