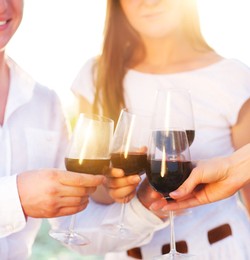 Join us for a course taught by the Culinary Institute of America-Greystone prior to our 2019 Spring "Bud Break" Party!
Mastering the Grape: Cabernet Sauvignon
2:00 - 3:30PM
Culinary Institute of America-Greystone
2555 Main Street
St. Helena, CA 94574
In this series of classes you'll learn, and remember, and focus on eight common characteristics of the featured grape variety, plus how to examine the wines for color, acidity, alcohol level, tannin, and the ever elusive "complexity." After some sensory warm-up, you'll be able to taste through a flight of five wines from all around the globe, including Parallel Wines, pick your favorites, and describe them like an expert. Pick up shopping, aging, storage and food, and wine pairing tips along the way.
Your $100 ticket includes this informative and fun course, plus a bottle of Parallel Wines to take home. Tickets are non-refundable after Friday, April 26th.
If you have any questions about this event, please contact Adrienne D. Capps, General Manager, at (707) 486-1100 or adrienne@parallelwines.com.