Bulent and Mary Pulak

"Bulent and I are the odd couple who joined Parallel partners in 2007 due to the great friendships we have made and the wine we fell in love with. It all started back in 1999 when we first set eyes on Park City, Utah flying from Istanbul, Turkey for a ski holiday with family. Not only did we get to experience the best snow in the world but also some of the nicest people to get to know, our first being Val and Steve Chin. Through the Chins we have enriched our list of friends, those especially a part of Parallel. Our first introduction to Napa Valley happened when our Parallel friends invited us to the Napa Wine Auction several years back when Parallel was a baby. We became fascinated with the life of winemaking. We were thrilled when the partners asked us on board and our pride in Parallel Wine truly matches theirs.
It has been 35 years of marriage for Bulent and I. We met in 1972 in Tucson, Arizona while Bulent studied for his Masters at the UofA and I was fulfilling my nursing career. Who would have thought while dancing with this handsome Turkish man at a disco that we would become an item and I would end up living in Istanbul all these years? It has been an adventure to say the least. Out of this union we have a daughter and son.
Due to Bulent's success in business we have been blessed and are fortunate to travel the world. Most of our best memories, though, have been in Park City. We didn't hesitate to make it our second home. We spend 4 1/2 months during the winter in our home in Deer Valley."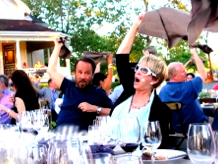 Bulent and Mary Pulak raising the Paddle at Auction Napa Valley
"Our first introduction to Napa Valley happened when our Parallel friends invited us to the Napa Wine Auction several years back when Parallel was a baby. We became fascinated with the life of winemaking. We were thrilled when the partners asked us on board and our pride in Parallel Wine truly matches theirs" - Mary Pulak