Steve and Val Chin
"There is a 'uniqueness' about the members of the Parallel group, who moved to Park City in the 1970s, and it's embodied in our partnership. We are an eclectic group of folks that is passionate about what we do and how we live. We are also risk takers that think outside the box. We constantly are looking for creative ways to make things better, whether it's in the arts, open space, an educational system or our wine." - Val Chin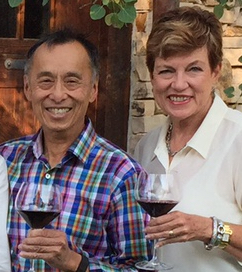 When they married, native Californians Steve and Val were on the fast track to highly successful careers in Los Angeles. Steve worked as a CPA for Kenneth Levanthal & Co. and Val was in college administration for Loyola Marymount University.
But something was missing - the pair had no time to indulge their passion for skiing. Throwing caution to the wind (a common thread among the Parallel partners), they packed their things and headed for Park City, telling everyone that they would be back after one ski season. That was 30 years ago and they "never looked back."
Today, they can share credit for the Renaissance that has reshaped Park City. Maintaining his CPA, Steve made his mark in real estate, and has served on the board of the Chamber of Commerce and Kimball Arts Center, while Val owned a bookstore and became an activist for education. She went from starting the first pre-school in Park City to the President of the School Board. She currently is the VP of the Park City Performing Arts Foundation and is on the board for the Utah Natural History Museum and co-chair of the US China Peoples Friendship Association (Utah chapter).
The timing of their move couldn't have been more perfect. In the early 1970s, Park City was a jewel of a small town with a rich mining history, but it had fallen on hard times. With the arrival of the group of Parallel friends, a commitment to the community was formed that continues to flourish today.
"The mid-70's was a magical time in our ski town," Steve says. "There was a convergence of young people who had a vision of what Park City could become. We rolled up our sleeves and all became involved in various aspects of community building. Our two sons, Joshua and Cameron, had the good fortune of being raised in a town with a terrific educational system coupled with a sports mecca right outside their front door."
Now, after more than two decades of friendship, the group begins its next adventure, one that is also framed by one of their shared passions: great wine.
"The creation of Parallel is an embodiment of who we are as a couple, and as friends and partners," Val says. "Our wine reflects the love, integrity, tenacity, thoughtfulness and patience that go into all lasting relationships." She continues, "The most obvious parallel between Park City and Napa is the sense of community and the passion for life that exists in both places. Also, both communities are tied to the land that so generously gives to us."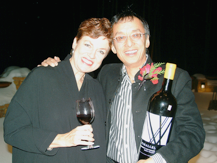 Steve and Val enjoying a Parallel moment

"There is a 'uniqueness' about the members of the Parallel group, who moved to Park City in the 1970s, and it's embodied in our partnership. We are an eclectic group of folks that is passionate about what we do and how we live. We are also risk takers that think outside the box. We constantly are looking for creative ways to make things better, whether it's in the arts, open space, an educational system or our wine." - Val Chin