Mac and Ann MacQuoid

As one gets to know the partners who created Parallel Wines - the collaboration of eight close friends - a shared love of four things emerges: community, each other, skiing, and of course, wine. Mac and Ann are no different. Ann, a native Texan, puts it best, "Mac and I met in Los Angeles in the early 1970's, fell madly in love, and the rest is history."
The pair married and had a daughter, Katy, and in 1980 the three free spirits moved to Park City on a lark. Their obvious love of life fit right in with the rest of the Parallel group. So did their eclectic backgrounds: Mac, currently an environmental guru, is a former stock broker, ski resort general contractor and historic renovator. Ann was in public relations and owned a day spa before becoming a Realtor in the booming Park City/Deer Valley real estate market. As they continue to be dedicated to Park City and its nonprofit organizations, Mac and Ann set their sights on a new goal: winemaking.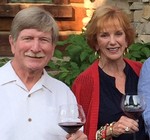 "Wine brings to mind conviviality, community, well-being and of course, terrior, the soil," Mac says. "I particularly like that wine is so connected to the earth and the sky, which ties in closely to our community work in Park City. It all seems so basic and natural. We are just carrying on the tradition."
Reflecting on the Parallel partner group, Ann adds, "we're dear friends who are risk takers, optimistic by nature, fun-loving, but serious about Parallel."
"Parallel is a dream come true. It sounds trite, but it's the simple truth. I believe that none of us ever imagined that we would be in the position we are today. We visualize ourselves one day dividing our time between Park City and our beautiful Napa Valley vineyard...what could be better?" - Ann MacQuoid