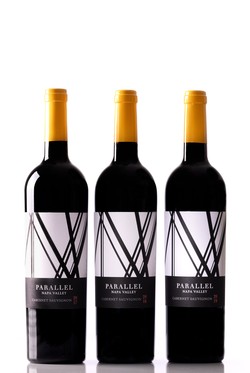 WINEMAKER PHILIPPE MELKA IMPRESSIONS OF THE VINTAGES
DURING THE RETROSPECTIVE VIRTUAL TASTING
In January 2023, we hosted a Retrospective Virtual Tasting with Winemaker Philippe Melka for our Wine Club Members where he tasted and shared his impressions of the 2017, 2018 and 2019 Parallel Napa Valley Cabernets. You may view the tasting on our
YouTube Channel.
2017
"My, my, my! In '17 that's what I really enjoy - the acidity is strong and the fruit is not too sweet so that really balances the wine super well. I don't know much, but I feel like this one can age another easily 10+ years. That's the beauty of it - it's super balanced."
2018
"One of great vintages in California where you can combine quantity and quality - that's really rare. When I look at the '18 the color is so deep still. It means the wine ages very slowly...it's going to last a long time. The nose for me is darker notes, fresher...slightly herbs and spices. I'll keep the '18 for aging."
2019
"Smelling the '19 for me it feels more like I can drink it now. The smell is a little more refined and friendly at this stage and still complex...you smell the power of the wine. The '19 especially has the most refined tannins and finish - really enjoyable. It has the lush, more sex appeal of California sunshine...slightly riper fruit profile and softer tannins so definitely a wine ready to drink now. I'm really enjoying it."