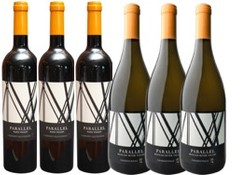 Treat Mom to a 6-Pack of Russian River Chardonnay and Napa Valley Cabernet Sauvignon
3 Bottles 2012 Russian River Chardonnay (750mL)
Winemaker Philippe Melka's Tasting Notes
"The 2012 Russian River Chardonnay opens on the nose with bright aromas of vanilla, lemon peel and coconut, laced with hints of sweet oak. Upon closer inspection exotic notes of cumquats begin to evolve. The palate begins with a touch of soft acid and well integrated blond oak tannin leading to full body that is well texture and creamy as a result of the traditional sur lees technique used to make this wine. In retrospect the wine's finish is elegant and long, adorned with flavors of crème brûlée, mandarin oranges and subtle oak hints. A well balanced and harmonious wine to say the least."
3 Bottles 2014 Napa Valley Cabernet Sauvignon (750mL)
Winemaker Philippe Melka's Tasting Notes
"Tons of clove, wild cherry, vanilla bean, and caramlized figs entice the nose. Great acidity on the palate with flavors of freshly cracked black pepper, cassis, boysenberry, spiced rum and a lingering finish. The herbaceous notes will make this wine pair delightfully with barbecued fare."