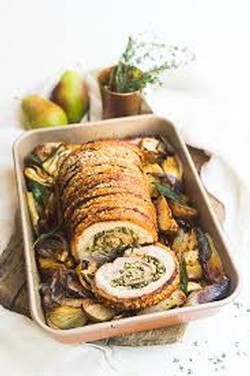 Blossom Catering was founded by two chefs in 2015 with the goal of providing the Napa Valley with a high end, customized catering service that could not only stand up to, but gracefully highlight the beauty of the local wines and culture.
These two chefs, Itamar and Nate, graduated in the same Culinary Institute of America-Greystone culinary class as Parallel Wines' General Manager, Adrienne Capps, so it was a natural for three friends to partner together to bring their local friends and colleagues an amazing dinner and wine pairing.
The Porchetta Dinner Package is for 2 diners and includes the following:
Niman Ranch Porchetta
Fresh Focaccia Bread with Rosemary and Sea Salt
Tri-Colore Salad
Roasted Seasonal Vegetables
1 bottle of 92-Point Philippe Melka 2017 Parallel Napa Valley Cabernet Sauvignon (750mL)
Scroll to the bottom of this page to add on dinners and/or wines to your order!
DELIVERY TO ADDRESSES IN NAPA COUNTY AS WELL AS THE CITITES OF VALLEJO, FAIRFIELD AND SONOMA ARE COMPLIMENTARY. For addresses outside these areas, please call Adrienne at (707) 486-1100 to inquire.
**ORDERS MUST BE RECEIVED BY 5:00PM ON SATURDAY, MAY 16TH FOR DELIVERY ON SUNDAY, MAY 17TH. ORDERS WILL BE DELIVERED BETWEEN 5:30-7:30PM ON SUNDAY, MAY 17TH.**