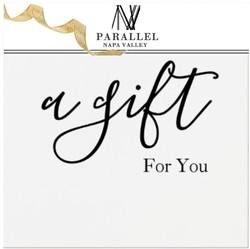 Treat your friends, family and colleagues to an Online Gift Card from Parallel Wines!
TO SEND TO AN ONLINE GIFT CARD WITH A SPECIAL MESSAGE:
At Check Out, create a New Shipping Address with the lucky Gift Card recipient's contact information.
Use the Gift Message box to send them a special message with their Gift Card.
You will receive the billing receipt by email and they will receive an email with a digital Gift Card Code they can use on our website along with your Gift Message.
Gift cards do not expire.
If you have any questions, please contact our General Manager, Adrienne Smith, at (707) 486-1100 or adrienne@parallelwines.com.