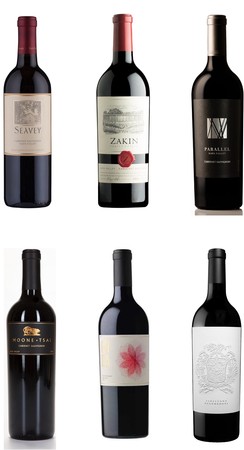 THE VERTICAL ATELIER MELKA CABERNET COLLECTION
2013 Moone-Tsai Black List XI Proprietary Red
2014 Seavey Napa Valley Cabernet Sauvignon
2015 Dana Estates ONDA Napa Valley Cabernet Sauvignon
2016 Parallel Wines Black Diamond Reserve Napa Valley Cabernet Sauvignon "Limelight"
2017 Alejandro Bulgheroni Estate Cabernet Sauvignon
2018 Zakin Estate Howell Mountain Cabernet Sauvignon
TO ADD ON THE CUSTOMIZABLE HOLIDAY GIFT UPGRADE WITH AN ATELIER MELKA VINTNER COLLECTION:
First, make sure you have added the "Customized Holiday Gift Upgrade" product to your cart - one for each 6-bottle collection. Click here, if you would like to add it.
Then, at Check Out under Delivery / Pickup Information, click "Add a new shipping address" with the lucky recipient's contact information. **If it is a surprise gift, enter only your email address with the shipping information.**
Finally, click "Add a gift message or special instructions" to send them a special message. This will be printed on holiday cardstock and enclosed with the Panevino food items in the shipping box.
The Atelier Melka Vintner Collections are available for purchase through Tuesday, November 9th only. Bottles will begin shipping shipping on Monday, November 15th. All prices are inclusive of wine, tax, and shipping. Unfortunately, we are not able to offer discounts on these collections.